JOIN OUR MOVEMENT
"Giving is the greatest act of Grace"
From every donation, only 5% of the funds are retained by the charity for administrative, marketing and fund raising costs; the remaining 95% is utilised exclusively towards our project expenses.
OTHER PROJECTS!
Being underprivileged is not a personal choice but a social constraint.
Our Major focusing on providing solutions to the challenges like Electricity, Empowerment, Awareness in various areas of hygiene, Voting, Savings etc. As rightly said, Let us not wait for the change we want to see amongst the underprivileged community, but instead let us donate right now and be the first step towards the change.
Colour their world with Kindness - 5000/-
Children need color. It defins their world and makes them feel alive. Let's brighten the lives of children in an orphanage with colors. Your contribution will help us to transform the dull walls into colorful ones.
Be an Umbrella in times of Rain! - 200/-
This monsoon, let us pledge to gift an umbrella to community children and adults who are farmers, cooks, sweepers and bmc workers to protect them from the lashing rain and consequent sickness.
Lighten up the community (Per Hut) - 2850/-
A small invention like a solar light can remove the darkness of the community.
Care For Hospital - Providing essential equipment to halasuru referral hospital - 30,000/-
Hospital provide a safe environment for people who are not safe in their homed or safe in the community because of either their infectious state or because of abuse of any type.
Key For success- Sponsorship for low income families (Student/ Per Year) - 16000/-
Proud Indian team is plunging into a mission of coaching students from low income families for government competitive exams, We have tied up with Radiance IAS Academy for the smooth execution of this project. We will begin this project with 10 students from Kanyakumari District.
Teach the Basics – Bridge Education Program (Student/ Per Month) - 550/-
A Bridge that enables the underprivileged children to cross the deep ocean of poverty. A Bridge that links them with education. A Bridge that prevents them from sinking!
Open Donation
No matter how big or small, every contribution to make our community in better place.
Donate via Direct Bank Transfer to our Organisation's account:
Scan the below code or direct Debit details to Donate
UPI:
Bank Transfer:
Account No: 50200039942573
IFSC: HDFC0002729
Branch: Domlur (Bangalore)
Address: 94, Domlur I Stage, Amarjyoti Layout, Domlur, Bengaluru, Karnataka 560071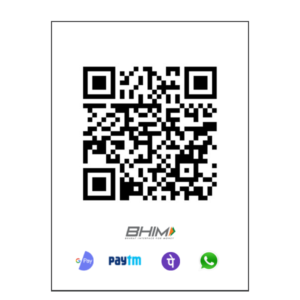 Proud Indian is a registered trust under the bengaluru zone. We are a 12A registered society with section 80(G) status of income tax act. Our financial records are audited annually by GVNKA & Associates Chartered Accountants. Proud Indian follows all financial regulations set forth for non-profits by the Government of India, and is audited annually.